That fabulous time of year when we all celebrate and are festive more than any other time of year is once again upon us. Get-togethers with loved ones, friends and co-workers are seemingly a daily event. Parties are held and festive food is served and devoured, and along with that we commonly quaff what could be considered consumable art. Sparkling wine.
To say "Not all sparkling wine is created equal" could be considered an understatement. But there is likely a place for each and all of the sparkling wines you can find at your local wine shop. Ask your purveyor for help in your sparkling wine selection if you are not sure which is best for your budget, event and/or guests. Champagne is the greatest sparkling wine in the world, and it is priced as the greatest. With a budget in mind, you can find Cavas from Spain and Proseccos from Italy along with California, Canadian, South African, and Australian sparkling wines. France also offers many other regional sparkling wines that are not Champagne and are also delicious sparkling wines that can fit in any budget.
Ask your purveyor for help in your sparkling wine selection if you are not sure which is best for your budget, event and/or guests.
Throughout the world, the making of sparkling wine has become much more prominent year after year in the last couple of decades, and this has been driven by an increase in consumption. According to statistica.com that increase in annual sparkling wine consumption is no different in Canada. Although it seems that most of us allow the celebratory events to exhaust our allotment for consumption of sparkling wine each year; in my house, I don't squander those daily opportunities to partake in opening a bottle of sparkling wine. I think we can safely consume sparkling wine without a major celebration at hand, and according to the numbers that is becoming more common place in other households as well.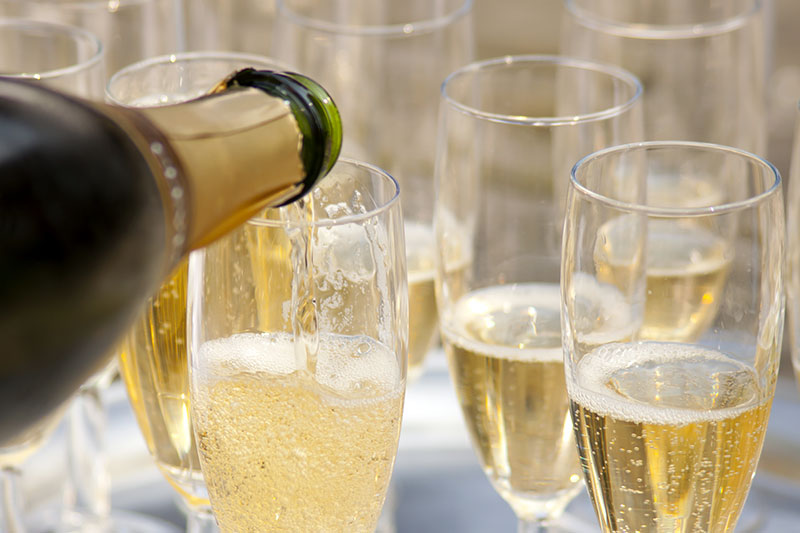 It may just be time to go out and explore some new regions around the world for your next sparkling wine. Throughout the years I have had the pleasure of trying many excellent sparkling wines. I know I left out many great wines and regions but here is a short list of some of my favorites that you might want to try and find for yourself.
It may just be time to go out and explore some new regions around the world for your next sparkling wine.
Italian Sparkling Wine
Bottega Gold Pinot Nero Spumante Brut Rosé
Starting off the list in Italy with the Bottega Pinot Nero Spumante Brut Rosé Gold. This dry sparkling wine is produced from 100% Pinot Nero grapes from the Lombardy region of Italy. The grapes are hand-picked and destemmed. The must is left in contact with the skins for 24 hours and then after a soft pressing and primary fermentation; the base wine undergoes a secondary fermentation using the Charmat tank method where it gets contact with the lees. The bottle itself is gorgeous and will enhance your dining experience just having the bottle on your table. In the glass it looks equally elegant and bright with a slight pink colour and a fine persistent mousse or perlage. On the nose, wild strawberries, and currants with floral notes. The palate had good balance and structure with a clean, persistent finish. This is an excellent aperitif and will accompany many dishes including fish, cheese, and vegetarian. Pricing: BC $34.99 at BCLDB (on sale until Dec 31 for $32.99), Ontario $29.95 at LCBO.

Bottega Gold Prosecco Spumante Brut
Yes, you can't do Italy without good Prosecco, and the Bottega Gold Prosecco Spumante Brut is just that. This is also a dry sparkling wine produced from 100% Glera grapes from the hillsides of the Treviso DOCG region in Veneto. After a long primary fermentation, the wine is left in contact with the lees to enhance the body, structure, and aroma of the wine. Once again, the bottle is coated in a beautiful baked on shiny gold wrapper and will enhance your dining table with its presence. It isn't just glamour on the outside, in the glass it is a bright straw yellow with a fine and quite persistent mousse. The nose is pear, green apple, and citrus fruits with white flowers. It is elegant on the palate with very good structure and balance and finishes with gentle spices. An excellent aperitif and will pair well with almost any appetizer and lighter dishes. I had it with my wild mushroom risotto and it was amazing. Pricing: BC $34.99 at BCLDB (on sale until Dec 31 for $32.99), Ontario $28.95 at LCBO.

Canadian Sparkling Wine
Canadian sparkling wine production has exploded over the past decade. It seems that almost everyone is producing a sparkling wine now. From BC this past year alone, I have tasted sparkling wines produced in the Okanagan Valley, Similkameen Valley, Fraser Valley, Cowichan Valley, and Saanich Peninsula; from Ontario produced on the Niagara Peninsula and the Annapolis Valley in Nova Scotia. There are other producing regions to be explored as well. There are many very good sparkling wines to recommend. Here are two that I really enjoyed:
Tantalus Blanc de Blanc 2019
First up is the Tantalus Blanc de Blanc 2019 from East Kelowna in the Okanagan Valley, BC. This 100% Chardonnay was produced from a single block of Chardonnay originally planted by Pioneer Vineyard of the Dulik family using traditional method. After a primary fermentation in seasoned puncheons and barrique barrels, it spends about 9 months aging on the lees before going through the secondary fermentation in bottle. The wine is then aged a further 22 months on secondary lees before a 4 g/L dosage of the original still Chardonnay. Golden straw in the glass, with a persistent fine mousse. Tree fruits, green apples on the nose and palate with citrus peel, pie crust and sea salt. The finish is long and leaves you with an elegant concentration. Yes, an aperitif and great with light dishes and seafood or fish. I had this with fresh oysters, which I need to revisit. Pricing: BC $31.30 from the winery, also in some private wine shops.

Blue Mountain Gold Label Brut 2018
From further South in the Okanagan in Okanagan Falls, BC is the Blue Mountain Gold Label Brut 2018 sparkling wine. This is a blend of 62% Pinot Noir and 38% Chardonnay from estate grown grapes. This is the first year I have tasted this wine with a blend that did not include Pinot Gris, and it makes it even more of a classic for this iconic BC sparkling wine that was already showing so well. Using the traditional method for production, the wines are blended after the primary fermentation and then bottled for the secondary fermentation where the wine ages on the lees for a generous 24 months. After being disgorged with 8 g/L to finish dry (Brut) with just a touch of sweetness to balance the palate, the wines are left to age another 6 to 9 months prior to release. The wine I tasted in Spring 2022 was harvested in 2018 and disgorged in May 2021. Bright pale-gold in the glass, persistent mousse with lemon, green apple and a touch of brioche on the nose. The palate shows good balance and structure with a long bright finish. Pairs very well with seafood. I had this wine with pan seared scallops with butter and sage in the pan, fantastic. Pricing: BC $28 from the winery also in some private wine shops, Ontario $34.95 at LCBO.

Champagne
Champagne de Venoge Cordon Bleu Brut Sélect NV
Champagne de Venoge is a medium size producer that was founded in 1837; the House of de Venoge is located on the prestigious Avenue de Champagne in Épernay, France. The Cordon Bleu Brut Sélect NV is a blend of 33% Pinot Noir, 33% Chardonnay and 33% Pinot Meunier. It is a first press wine composed of 20% of reserve wine from the past two years to create a consistent reflection of the style and elegance of the wine. The dosage is between 5.5 g/L to 6.5 g/L. The wine sits on the lees for up to 48 months and is aged in bottle for three years. Bright gold colour in the glass, with aromas of green apple, lemon, and honey, followed by a toasty nutty character with a touch a sea salt. A fine persistent mousse with a gorgeous creamy consistency on the palate. A long persistent finish with finesse. Perfect as an aperitif or paired with appetizers or seafood. I have paired this wine with almost everything and it has never disappointed. Pricing: BC $76.99 at BCLDB, Alberta $65 at several private shops, Quebec $54.75 at SAQ.

Taittinger Comtes de Champagne Blanc de Blancs 2011
I love a good Blanc de Blancs, and the Taittinger Comtes de Champagne Blanc de Blancs 2011 is an excellent representation of what wine makers should push themselves to achieve. This wine is made exclusively with Chardonnay from the five villages on the Côte des Blancs with Grands Crus classification. Only the cuvee (first press or best juice) is used to produce Comtes de Champagne. Five percent of the wines that are blended to produce the wine have been aged for four months in new French oak barrels, one third of which are replaced each year. This allows the wine maker to create a very delicate balance of toasted notes in the final wine, which ages for ten years under ground in the chalk quarries of Saint-Nicaise. Straw yellow-gold in the glass with a very fine and persistent mousse. Aromas of lemon peel, green apple, white peach followed by a hint of ginger and liquorice. Great structure and balance with a chalky minerality and ultra-creamy mousse on the palate with a touch of candied fruit and sweet baking spices. The finish is very long and brings back subtle liquorice and chalk with just a pinch of salt. Perfect pairing with seafood, shellfish or a fish entrée. This is the wine for that very special celebration. It is drinking well now and should age through 2032 in cellar. Pricing: BC $349.99 at BCLDB, Ontario $240.95 at LCBO, Quebec $249 at SAQ.