On my last trip to Montreal, last February, I was not surprised to find snow on the ground and a not so welcoming minus ten-degree temperature. Not surprised, but ill-prepared to walk in the snow for even a couple of blocks. I am after all from Vancouver, and walking in the snow in below zero temperatures for even a couple of blocks is almost an epic journey for me; however, I did manage the short walk from my hotel to Maison Boulud in the Ritz-Carlton, Montreal.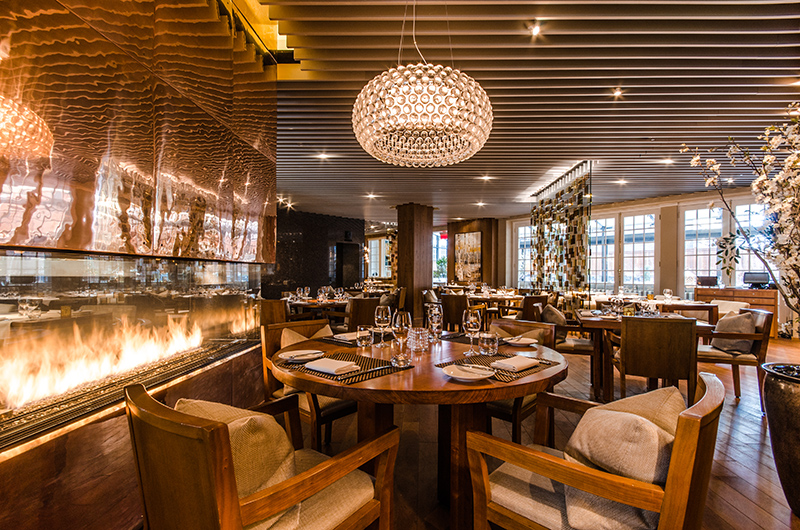 I could talk about the luxurious yet cozy French restaurant Maison Boulud for an entire article in itself, and I do recommend a visit to anyone wanting a great experience in fine dining.  The wine list is well thought out and extensive with an ample supply of wines by the glass, equally paired with a deep list of spirits from the bar.  The front of house staff was warm and welcoming; they knew exactly how much attention I needed throughout my dining experience.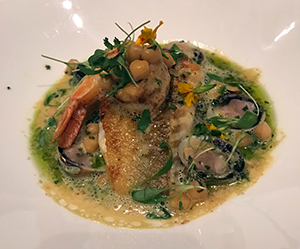 I started with a glass of Champagne Lanson Brut Rose and paired it with oysters. Then the chef came out and dropped his 8-inch chef's knife down on the table. Okay, I might have exaggerated the knife part a little, but champagne and oysters – come on. I did move on to a Julien Pilon Marsanne and paired this gorgeous Rhone white with a rich and refreshing winter salad with burrata, followed up by a seafood medley served in a mouthwatering creamy broth. I finished up with a Château Vilatte 2011 Bordeaux Supérieur to pair up with the hanger steak, with frites of course. Finding wines by the glass of interest was effortless, and all dishes were very well executed, creative and delicious.
So now, having this fine dining experience behind me and another trek in the snow ahead, I decided to make a pit stop on the way back to my hotel – as I might have a need for more fuel. Luckily for me, only a short one and half blocks from Maison Boulud, and exactly halfway back to my hotel, is just such a place: Stogies Cigar Lounge. It was almost as if someone had planned this out for me.

Stogies is on the second floor and offers an elevated view of the surrounding city streets at the corner of Crescent Street and Boulevard de Maisonneuve. There are a couple of patios that would have looked pretty inviting if they weren't covered in snow. I would be surprised if I didn't find myself on one of them in a warmer month in the future. For this trip, I will have to endeavour forward with a comfortable armchair at a table indoors.
The staff in the lounge is very welcoming and more than familiar with the contents of the well stocked bar.  The cold outside had firmly planted a nice cognac on my mind, but after seeing the extensive list of single malt scotches I yielded to the pressure.  I decided on the Macallan 'Rare Cask' single malt whisky from Speyside. This is a whisky with no age statement on the label, in a world of whisky that is all about the age, (the Macallan website notes a high-proportion of first-fill sherry malts aged from 17-21 years). This was an intriguing drink. I had a double, neat – with water on the side. The first-fill sherry seasoned oak casks certainly come across on the nose with baking spices, nutmeg, vanilla and clove.  Later I picked up hints of chocolate and caramel with a touch of citrus peel. The malt presents itself on the palate with dried fruits, sweetness, a nutty oily character and hints of citrus.  The sweet fruit carries on into a warm long finish.
Of course, the raison d'etre for my stop at Stogies was le cigare. After all, I could have stayed at Maison Boulud for a great spirit to finish off the evening. Stogies has a large walk-in humidor with a very good selection of cigars, including many from Cuba. There are some rare and limited-edition Cubans there as well. I think you would be hard pressed to not find something to your liking. I honed the list down to a Hoyo de Monterrey Epicure No. 2, hoping to pair well with my drink, and also because I like a robusto with a 50 ring gauge. I have smoked many boxes of the Epicure No. 2 over the years, and I have found it to be very reliable and consistent. Although, I have a couple of aficionado friends that have had issues with the draw on a few sticks out of each box, I have never had an issue with the draw on this cigar. Tonight was no different, as I light up this beauty with the wood provided by staff. The smoke is smooth, and the burn is perfect. This cigar is elegant and refined, but with an intensity. The smoke tastes of cinnamon with hints of vanilla, citrus and leather. It finishes with white pepper and chocolate. The sweetness on the finish of the whisky seems to pull out dried fruits and even more complexity from the cigar smoke. Both whisky and cigar are elegant and refined and work well together to bring out layers of flavour from each other.

So a sherry cask aged single malt and a delicate, aromatic Cuban seems to be a win to finish up my evening. Now how am I ever going to get myself to leave and go back to my hotel? I think I'll have another round and revisit the situation.